Backup Camera Installation
Needless reversing accidents happen every day due to blind spots behind a vehicle. If you're interested in minimizing the potential for property damage or personal injury from driving in reverse, don't wait any longer to get a backup camera for your vehicle. Contact Tint Pros Car & Truck Accessories right away so we can get you on our schedule and make your ride safer with a back up camera system that can greatly improve your rear view vision. It won't be long before reversing camera technology comes standard on every car or truck. Until then, it's up to you to put safety first by adding a rear view camera to your vehicle's other safety features like seat belts, anti-lock brakes, and side-impact beams. Reach us today to get started!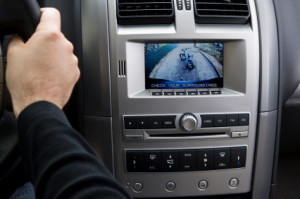 While no amount of equipment can absolutely safeguard your vehicle, having a backup camera on board is a big step in the right direction. Acting as a virtual backup assistant, a reverse camera gives you an unobstructed view of the objects, people, and animals behind you. At Tint Pros Car & Truck Accessories, we can also install backup alarms that can sound a warning any time your vehicle is moving in reverse. It's one more safety enhancement for your car or truck to help you avoid coming into contact with:
Small children or pets
Pedestrians
Fire hydrants
Stationary vehicles
Signs or structures
Oncoming traffic
And other hazards
Of course, you have the final say in how and where you would like us to install your backup camera system. Like all of our mobile electronics equipment, options are available for back up camera and back up alarm units based on the type of vehicle you drive and how much you want to spend. No matter what model you end up choosing, our knowledgeable technicians will ensure that you get a quality rear view camera carefully installed for peak performance. We're licensed and insured professionals in Milwaukee, and we take your safety seriously.
In-Dash or Mirror Backup Cameras
Think about it. How many times have you narrowly missed hitting an object or a person you almost didn't see while backing up your car? The next time you might not be so lucky. Let us get you into our service bay to install a back up camera you can rely on each and every time you're driving in reverse. For your convenience, Tint Pros Car & Truck Accessories can install your device to operate through an in-dash video feed or as a backup camera mirror. We can also equip pretty much any personal vehicle with a wireless backup camera, including cars, trucks, vans, SUVs, Jeeps, and more.
So don't delay in improving your vehicle safety with reversing camera technology that can eliminate blind spots and expose everything in your rearward path. Backover accidents can be avoided. Call us today in the Milwaukee area for details and a free estimate. You'll be a safer driver with a backup assistant on board!
backup cameras
rear view camera
backup sensors
backup camera
rear view mirror camera