Car Audio
Isn't it time you got the car audio system you've always wanted? You know, the one with supreme sound quality, ear-blasting bass, or all the bells and whistles? We're ready to make your car audio dreams come true at Tint Pros Car & Truck Accessories!
Serving the greater Milwaukee area, we're just a phone call away to bring you flawless installation, top-of-the-line products, and car stereo sound like you've never heard before. No matter what you're tuning into, it's sure to come through loud and clear, thanks to our expertise in car audio systems. Let our trusted installers help you pump up the volume in your vehicle with custom car audio designed to meet your individual needs. Contact us today for a free price estimate and prompt appointment for car audio installation.
Experienced Car Stereo Installation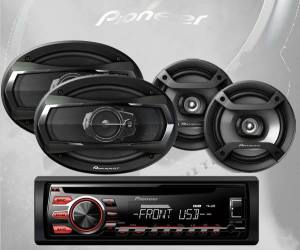 At Tint Pros Car & Truck Accessories, our car audio shop has been open since 2015, but we've been working on aftermarket electronics for a combined two decades. That means we know our way around car audio systems and how to install them properly. By using only top-quality products and best-practice techniques, we can provide a superior car audio installation outcome. We're proud to help Milwaukee-area motorists enjoy a full spectrum of car audio accessories and components, including:
Amplifiers
Subwoofers
Speakers
CD players
Satellite radio
MP3 decks
Custom speaker boxes
And more!
We've pulled together a fantastic assortment of car audio speakers and other car stereo components from top brands like Sony, Pioneer, Alpine, Kicker, and many others. Still, if there's anything we've learned in our years on the job, it's that installation is what matters most for car stereo systems. That's the advantage of choosing Tint Pros Car & Truck Accessories as your car audio installers. We take the time to hook up every part of your car stereo system carefully and accurately. Our goal is to meet or even exceed your expectations on each car audio system we install.
Free Estimates on Custom Car Audio
Regardless of what you're looking for in custom car audio, you're certain to appreciate the wonderful workmanship and high-level value you get from Tint Pros Car & Truck Accessories. If you can imagine it, chances are our skilled car audio team can make it happen. From small car stereo upgrades to comprehensive car stereo systems built from scratch, we're here to help in any way we can. We're simply your best bet in the Milwaukee metro for car stereo installers who really know their stuff. So stop driving around with a factory car stereo that leaves a lot to be desired. It's time to outfit your ride with a car audio system that looks great and performs even better.
Free estimates make it easy to price out your car audio components at Tint Pros Car & Truck Accessories. We're also fully insured and licensed so you can rest easy working with our car stereo installers. What are you waiting for? We can set up an appointment at a time that's convenient for you. Call or e-mail us today!
Mobile Audio
Amplifiers
Car Stereo
Car Audio Installer
Motorcycle Lighting
Car Speakers
Head units
Mobile Electronics
Motorcycle Audio