Mobile Video
If you're considering a mobile video system, you've come to the right place! A car DVD system can make both daily driving and road trips much more enjoyable for families with kids on board. At Tint Pros Car & Truck Accessories, we're equipped to deck out your car, truck, or even boat with mobile video installation tailored to match your needs, your vehicle, and of course, your budget. Once you upgrade to an in-car DVD player for your ride, you'll never again have to travel with bored, whiny passengers. We specialize in creating car DVD systems the whole family will love. Contact our Milwaukee-area mobile video installers today.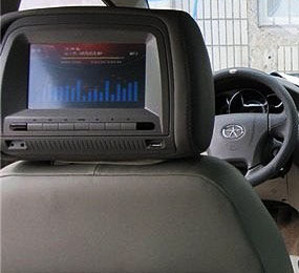 You call the shots with your in-car video system from Tint Pros Car & Truck Accessories. We have great products from premier brands, and we can help you find the right in-car DVD player and other components for what you have in mind. We'll draw from our 20+ years of combined experience to make certain your specific mobile video requests are completely met. Depending on your preferences, we can design your car DVD system to include:
Headrest DVD screens
In-dash DVD monitors
Overhead DVD players
Car speakers
Boat speakers
Device integration
And more!
Our skilled installers make it possible to get exactly the look and the layout you want for your marine or in-car video system. We can mount your in-car DVD player where you like and give you options for headrest DVD screens or in-dash DVD monitors. What's more, we can take your mobile video capabilities to the next level by integrating your existing audio deck as well as accessories such as video game inputs and iPod connectivity. In the end, you'll have a customized solution for mobile entertainment whenever you're on the road or water.
Superior Car DVD Systems
If you're still driving around without movies playing or in-car video gaming capability, you're missing out. Mobile video is one thing kids of all ages can agree on, and we have what you're looking for at Tint Pros Car & Truck Accessories. Whether you want a simple in-car DVD player or the whole nine yards in custom car audio video, we're here to bring you superior workmanship, affordable rates, and satisfaction from start to finish. We want you to get the most out of your in-car video system, and we make sure of that by taking the time to install it with complete accuracy. So don't risk amateur results on your car DVD system. Make us your one-stop resource in Milwaukee for car DVD installation done right!
Don't forget...we stand behind all of our mobile video installation workmanship with great warranties. Learn more when you call to speak with our car audio video professionals. We're also licensed and insured for your added security. Call or e-mail us today for an appointment and free price quote.
Car DVD System
Car Video System