Remote Car Starters
What's the secret to surviving winter in Wisconsin? For many of us, it's a remote car starter. In fact, automatic car starters are as helpful in the summer as they are in the winter, allowing you to turn on your car from a distance and reduce wear and tear on your vehicle's engine year after year. When you're ready to ride out the seasons in the comfort of a temperature-regulated car or truck cabin, give Tint Pros Car & Truck Accessories a call. We're Milwaukee's mobile electronics shop for remote starters installed in both personal and light commercial vehicles. Contact us today for remote starter installation, starting at just $169!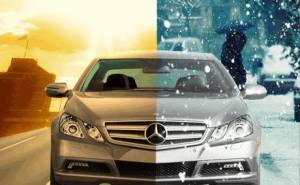 That's right. For as little as $169, you can have the luxury of a car starter to heat or cool your vehicle while you stay cozy indoors. Not only does that mean less shivering or sweltering in extreme weather, but a remote car starter will also save you time and labor by cutting down on brushing snow and scraping ice off. You can continue with your inside tasks as your automatic car starter starts the car and melts the ice away outside. You're also sure to appreciate your remote starter on hot days, stormy days, and any day at all you need a little extra time.
Automatic car starters come with a number of features to enhance their performance and convenience. We can offer you options including:
Variable ranges
Keyless entry
Key fob controls 
Smartphone operation
Vehicle security features
And more!
Our team of knowledgeable installers has decades of experience working with remote starters for cars. Whether you're interested in a basic automatic car starter or one installed as part of a comprehensive keyless entry and vehicle security system, we're ready to help. We aim to make you comfortable with our full-service offerings in automatic car starters at some of the best rates in the Milwaukee region. Getting the most out of your remote car starter is easy when you bring your vehicle to Tint Pros Car & Truck Accessories.
Remote Starters for Light Commercial Vehicles
In addition to installing auto car starters in personal cars or trucks, we can also help with remote starter installation for light commercial vehicles, such as limousines or buses. Regardless of the size of vehicle it's used in, a remote starter still offers the big benefits of a comfortable interior cabin temperature and an extended lifespan for your vehicle's motor. Plus, in combination with keyless entry, smartphone operation, and other handy features, you can enjoy all the same advantages you love about the auto starter in your personal car for your commercial vehicles as well. Isn't it time you took steps to make Milwaukee's freezing cold winters a whole lot easier on you, your employees, and the vehicles you drive? To schedule an appointment for remote starter installation, call or e-mail our licensed and insured professionals today.
While you're at it, ask about our heated seat installation, too. They're another great service we offer to get you through the winter. Just pick up the phone and call Tint Pros Car & Truck Accessories. We're here to help!
Remote Starter
Car Starter
Automatic Car Starters
Remote Start System
Remote Starters
Remote Start