Truck and Car Accessories
At Tint Pros Car & Truck Accessories, we're not kidding about the accessories part of our name. We're here to help you customize your ride with pretty much any auto accessories your heart desires. Whether you're thinking about awesome car interior accessories such as heated seats or you'd like something special for your truck or Jeep, at our car accessories shop near Milwaukee, we can fix you up with practically anything you want. We even install any and all motorcycle accessories if you're looking to upgrade your bike. So come check us out for impeccable installation of car accessories from pros with 20+ years of combined experience. Call now to make an appointment!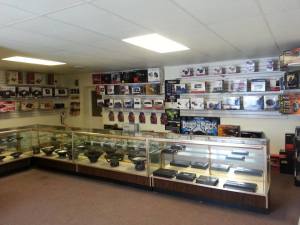 Quality is priority number one at Tint Pros Car & Truck Accessories. You can see that emphasis on top-notch products in our great selection of car parts and accessories from leading brands. Better yet, that first-class quality shines through in the meticulous way we install car accessories, truck accessories, and motorcycle add-ons. Make us your go-to car accessories store for a huge range of must-have gear, including:
Lift kits
Running boards
Tonneau covers
Cargo liners
Custom grilles
Spoilers
Heated seats
Floor liners
Wind deflectors
Chrome
Wood grain parts
M.P.A.K audio kits
Motorcycle wiring kits
And much more!
It's the aftermarket car accessories that turn an ordinary vehicle into your dream ride. When you want those custom car accessories to last, you want them installed by the knowledgeable team at Tint Pros Car & Truck Accessories. Serving the Milwaukee metro, we work by appointment so we can give your job the individual attention it deserves. We're also fully licensed and insured, backing up your newly installed auto accessories with complete peace of mind.
Truck Accessories
When it's truck accessories you're into, we have a lot of options for both light- and heavy-duty trucks as well as SUVs and Jeeps. Taking your rig to the next level is easy with our custom truck accessories from running boards to grille guards to bed liners and all the rest. We're ready to set up your truck with an amazing array of truck bed accessories, truck interior touches, and other incredible add-ons from some of the biggest names in the business. Plus, you can rely on us for free, upfront estimates to help you stay on budget. If you think you love your truck now, just wait until our skilled installers are through putting in your favorite truck parts and accessories. You can count on us to shift your enjoyment of your vehicle into overdrive.
It's remarkable what you can do with a few professionally installed car or truck accessories. For expert results on your car interior accessories, custom truck accessories, and more, call on the experienced installers at Tint Pros Car & Truck Accessories. We're here to help!
truck accessories
car accessories
grill guards