Window Tinting
When it comes to car window tinting, it's vital to combine quality materials with true installation expertise. That's the winning recipe behind our window tinting success at Tint Pros Car & Truck Accessories. Using only high-performance window films from trusted manufacturers, we deliver smooth and long-lasting auto window tinting results. What's more, we back our window tint services with a lifetime warranty, so you're fully protected should any problems occur now or years from now. We've mastered the process of tinting windows at our Milwaukee-area shop, and we're ready to help you get the ideal shade for whatever kind of vehicle you drive. Make your appointment today for tinting car windows!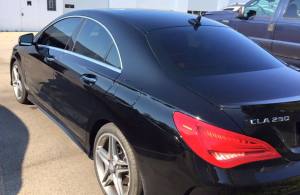 Window tinting is not just about looks. The benefits of tint windows in cars go well beyond aesthetics alone. At Tint Pros Car & Truck Accessories, we're here to help you reap the many rewards of auto window tinting for your car, truck, Jeep, van, or any other model of vehicle. On top of their stylish appearance, window films come in a range of tints and types to provide you with a number of payoffs, including:
Superior sun protection
Greater cabin comfort
Keeping belongings out of view
Improved vehicle privacy
Decreased upholstery fading
And more!
Ultimately, with high-quality films and proper installation, window tint can block up to 99% of damaging UV rays from the sun. Not only is that a strong line of defense for your skin, it's also terrific news for the long-term condition of your vehicle's interior. Tinting car windows even goes a long way toward securing your mobile electronics. Thieves can't look in the windows to case your valuables, and your car audio and video gear is guarded against severe temperatures.
Lifetime Warranty on Car Window Tint
In short, when you choose Tint Pros Car & Truck Accessories to handle your auto window tinting, disappointment is not an option. We ensure your satisfaction 100% with our lifetime warranty protection on all the window tint services we offer. That means your tinted car windows will come out precisely as planned, both in the way they look and the way they function. If not, we're here for you, and we'll do whatever we need to correct your window tinting. So why bother with inferior window tint materials or second-rate installation that can leave you with issues like peeling, cracking, or delaminating window films? For an optimal return on your car window tinting investment, start with the team at Tint Pros Car & Truck Accessories. We're a licensed and insured business serving the Milwaukee area, and we have 20+ years of combined experience in professional window tinting.
Quality auto glass tinting doesn't have to cost a lot, either, thanks to our local car audio shop. We're happy to give you a free, no-obligation estimate on our window tint services when you call. Get in touch with our auto tinting team today!
Car window tint
Window films
Automotive window tinting
Tinting windows